Because I always have so much going on at the same time, in this section I would like to keep you updated on what are my current main/side projects. These are related to research, science communication or shedding light on the struggles that female scientists go through in their career. Quite a mix as you can see!
SPEAKER AT SOAPBOX SCIENCE 2023
I am so so excited to finally be a speaker at the Soapbox Science Berlin event on the 24th of June!! So if you're around and want to know more about invasive plants, come and join us at Potsdamerplatz!
Image credit Franzi Sattler
OPEN APPLICATIONS FOR ANDINA 2024
I am part of the scientific committee organizing the next AndiNA VI international workshop to take place in February 2024 and we are planning a wonderful event.
Now… we are excited to announce the call for applications are now open until 30th of June!!
The topic: Ecology for a social revolution
The challenge: Re-defining the role of ecologists and their responsibilities toward society
Join us in this critical, dynamic and self-reflective walk-shop, where we aim to discuss how ecologists can be more effective in preventing further degradation of the natural world
Where and when? Beautiful Conguillio National Park in Chile
Wanna know more? https://andinachile2024.org/
If you are excited as us, apply here: https://tinyurl.com/5n8uvk8c
Interview for Nature Methods about maternity in academia
In Feb, just before knowing that our 1 yo actually had COVID, I was approached by Vivían Marx to talk about the challenges of doing science while parenting for Nature methods.
Many things have improved in academia for parents taking most of the load, but we still have a long way to go. Starting from a system that rewards people who have no breaks, lack of support (e.g., childcare in conferences), discrimination (e.g., taking people out of projects).
We add to the equation gender expectations and discrimination, racial and geographic biases and we have the perfect equation for people leaving academia. Mostly women of course.
Winter is a particularly hard season given the constant sicknesses, which inevitably makes me «less productive». Yet, being a mom have made me more efficient with my time and believe it or not the kids have given me a better perspective of the world. BUT IT'S EXTREMELY STRESSFUL, and many people don't get it. I'm gonna keep pushing for staying in academia because this is my passion, but I know it's not gonna be easy…
Here is the article (behind a paywall, but send me an email ;)): https://www.nature.com/articles/s41592-023-01818-x
JVS Editors' Award for 2022!
The best news of the year so far!! What an honor that our paper was selected by the journal editors to win the Award! It means a lot to be seen, especially because this effort was carried out in the middle of lockdowns and lots of stress for young scientists. If you remember, the 2020 IAVS Symposium was cancelled. Such news were very sad for us, because conferences are the places where young sci can network. So with the @IavsYoung we met online, in the middle of the pandemic, and thought about the future of vegetation science. The result: a horizon scan for vegetation science! My personal take on the experience: It was very nice to lead such initiative, but also stressful at times. In fact I submitted the proofs of the paper, while having Braxton Hicks contractions, the day before my second baby was born. Quite a ride.
You can read about the award here: https://vegsciblog.org/2022/02/11/whats-up-vegetation-science/
Or check the behind the scenes here:
https://vegsciblog.org/2022/02/11/whats-up-vegetation-science/
The paper: https://onlinelibrary.wiley.com/doi/10
THE PAST……
2022: the year of the second baby
July
Another wonderful successful Soapbox Science event, this time at Potsdamer Platz in Berlin! Check out more about it here: https://berlinsoapboxscience.wordpress.com/2022/06/02/soapbox-science-2022/. I must admit that I was not active this year in the organization because of the little one, but my friends did an amazing job as always!
We also got a nice summary in video:
February
Baby number 2 arrived a couple of weeks before the due date, but just in time for submitting the proofs of my favorite pandemic paper. A horizon scan for vegetation carried out by early career researchers, now online: https://onlinelibrary.wiley.com/doi/full/10.1111/jvs.13119
January
Most of the month has been filled with quarantine and lack of child care due to the current pandemic, so it was the perfect timing to join my friend Franzi Sattler (@ohyeahfranzi in TW) for a chat about how motherhood and the pandemic are affecting academic moms. If you wanna know more, here is the link to our engaging conversation! Ping me on tw if you have any comments or wanna share your experience on the subject.
2021 the year of a second pregnancy and COVID restrictions
Soapbox event at the Berlin Science week in November 2021
This year I am not participating in organizing the Soapbox event at the Berlin Science week because of well… burn out after a difficult year. However, as a warm up, we have put together the videos of the presentations from the online event in 2020. Here is mine, but be sure of checking the other super interesting talks! https://www.youtube.com/watch?v=BL9mIo7ObqI&t=273s
Pint of science Berlin event
Super excited to be a presenter at Pint of science Berlin on Monday the 17th at 20:00 CET. The event will be online, but you can check the super interesting topics happening during 3 days of great science and of course, beer on the side (https://pintofscience.de/). Grab your beer and join me to talk about alien plants!
Guest lecture at Invasion course – Universidad San Francisco de Quito (USFQ)
Prof. Gonzalo Rivas-Torres invited me to give a lecture on my work on the impacts of Acacia invasions in Fynbos and the implications for restoration. I am writing this after it happen and I have to mention how nice it was! We had very interesting idea exchanges and discussions. I hope to see many of the students working in the field soon, they are super bright!
18th February AER Live
This time I am not the one presenting but rather chairing! It's my first time and what a guest will I be introducing! Prof. Possingham is Chief Scientist in The Nature Conservancy, the world's largest environmental non-government organization and Prof. at the University of Queensland. His lab mainly uses a modelling aproach to address problems to secure the world's biological diversity. That includes topics such as efficient nature reserve design, habitat reconstruction, monitoring, optimal management of populations for conservation, cost-effective conservation actions for threatened species, pest control and population harvesting, survey methods for detecting bird decline, bird conservation ecology, environmental accounting and metapopulation dynamics. Basically, as he states in his website, the focus is in research that has an impact and most importantly, that changes the way the world work. Looking forward to it!
***The event is fully booked, but you can try to get into the waiting list by contacting: hello@appliedecologyresources.org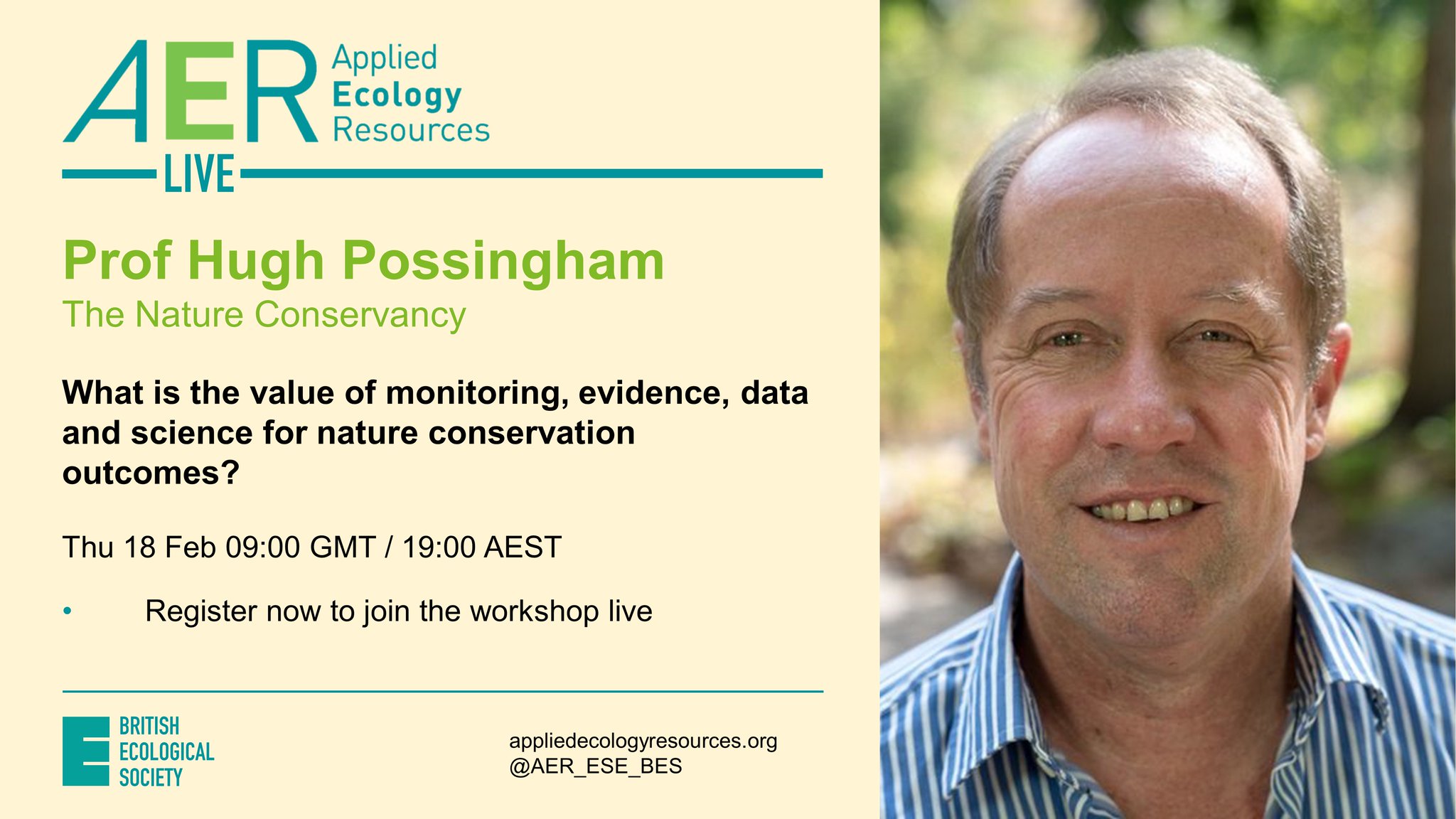 17th January Digitaler Kaffeeklatsch mit Wissenschaft
****update: the recording from the event is already available****
I'm beyond excited to participate in this science communication event! More information here: https://www.museumfuernaturkunde.berlin/en/museum/events/digital-science-communication-cafe-5. I will be talking about plant invasions in general and also discussing some of my work with the amazing Franzi Sattler. Even if this is a virtual event, be sure to have you coffee and cake at hand! Follow her events at the Museum für Naturkunde Berlin on tw: @WisskommKaffee.
14th January Workshop at IENE Conference (http://www.iene.info/iene-2020/)
If you are interested in ecological solutions for linear infrastructure networks. Check out this conference. I will be participating on the workshop «Road sides as ecological traps – challenges and solutions: changed biotic interactions due to non-native seed mixtures and invasive alien plants». Here I will be presenting some of the work I did during my PhD and I am already looking forward to nice discussions with participants of the workshop.
14-18th December BES Festival of Ecology
This will be my first time at one of the British Ecological Society's meetings, so I am really looking forward to it. Also because it will be fully online with lots of interesting workshops on the side! I will have my presentation posted in my youtube channel afterwards, but for now I'd say that I will be talking about the performance of the invasive to Europe, Senecio inaequidens when competing with experienced and naïve native communities. If you're not attending the conference, watch this space!
16th November: Presentation at ARG Plant Women
I'm so happy to be presenting my work in the Seminars organized by this group of amazing plant scientists in Argentina. The seminar will be at 2pm Argentina's time, but it will also be recorded! Check out next seminars here.
7th November: Soapbox Science Berlin 2020
Since beginning of this year, I am a proud member of the Berlin Soapbox Science Team. What is it? Check out this video in English, or in German here. We worked really hard and had an amazing event on the 19th of September in Washingtonplatz! Now we are moving from the streets to the virtual world for this year's Berlin Science week. If you are interested, join us on the 7th Nov between 3 to 5pm for some really interesting talks. I will also talk about my work on plant invasions there!
4-6th November: WISE – Women in science ecology
I am super excited to participate in the first WISE – Ecology online conference! This will be on the 4-6th of November and it's a space to talk about diversity and equality in ecology. It's going to be amazing! I will have a presentation on the first day talking about family, maternity and academia, in particular when things don't go as planned. There will be other talks dealing with topics such as including data on gender bias in academia an research, motherhood, harassment, gender-bias and leadership in academia.
13th-14th October: First IAVS Young Scientists working group Workshop
We can all agree that 2020 has been a super challenging year. One of the saddest events so far has been the cancellation of the 2020 IAVS Symposium that was going to be held in Vladivostok. As a part of the IAVS Young Scientist Steering Committee, I was part of planning activities and meetings to happen during the conference. Since none of our plans could materialize and given the challenges that this pandemic is putting through young researchers, I discussed with my colleagues at the committee to organize a online workshop with people in our working group to figure out what will be the emerging topics for the field of vegetation science in the next 20 years. We have ideas from an amazing group of 20 young scientists and will be having the workshop from the 13-14th October. News on this coming up soon! You can also follow our us in Tw: @IavsYoung.
September: Visit to plants and pipettes
Last month I visited the podcast Plants and pipettes and had an amazing time talking about our balcony experiment and plant invasions in general. It was a lot of fun and my first time in a podcast, or an interview actually. If you want to listen to the episode, check it our here. I can highly recommend their blog as well.